We continue to automate within our plastic thermoforming facility, we're proud of our latest piece of equipment in our automation arsenal—a new dual-arm robotic router trim station. The robotic router is designed to trim more parts per hour and improving the safety of our operators.
Automated routing applications,  focused on precise router trimming maneuvers for thermoformed parts. There are several benefits of robotic router automation in thermoforming, such as freeing our operators for quality and inspection tasks, while also replacing older CNC router machines.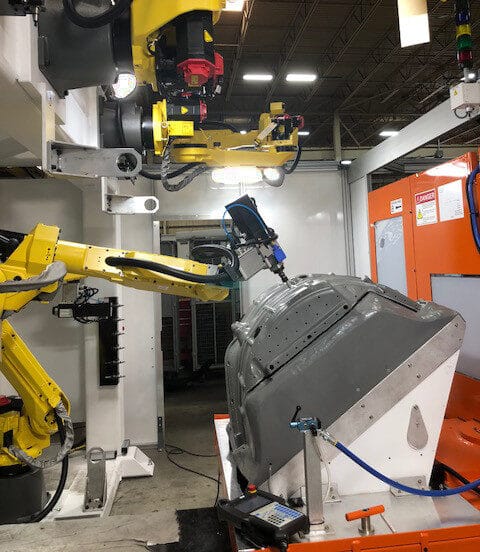 The dual arm work station of the robotic router system is designed so the operator loads a part on one station and then initiates a cycle. The table then rotates 180 degrees and presents the part that is to be trimmed to the robot. While the robot trims the first part, the operator unloads a trimmed plastic part and loads the next part to be processed. Parts processed by the dual-arm robotic router station include those from commercial segments, such as engine hoods, cab covers, fenders, and many other heavy-gauge parts.
By improving technology, automation, and engineering solutions into our plastic thermoforming process, we continue to use state-of-the-art innovation in forming inspiration and adding value to the products and services we provide our customers.
Founded in 1993 on the principles of innovation and resourcefulness, LINDAR has grown to become a leader in plastic thermoforming of paint products, food packaging, and heavy gauge products for agricultural, recreational, industrial, and healthcare. We are AIB certified and ISO 9001:2015 certified—revealing our commitment to delivering consistent quality and value to our customers.